Tarantula
Details
Lvl req.
21
Type
Animals unlocked through leveling up
Area
Shop / Animal
Cost
129.000
Gain Veteran/
{{{GainVeteran}}}
Gain 09.2011/
4.500
XP
550
Every
3 hrs
Breeding / Animal
Parent1
--
Parent2
--
Cost
129.000
in
36 hrs
Instant
25/25
Reward for completing a Family
Family XP
550
Family Gain
1.290
Crossbreeding / Animal
Partner1
--
Result1
--
X-Cost1
--
X-in1
--
X-Instant1
--
———————————————————————————
Partner2
--
Result2
--
X-Cost2
--
X-in2
--
X-Instant2
--
Collections
Collections
--
Tarantulas
(as the term is used in North America) comprise a group of hairy and often very large arachnids belonging to the family Theraphosidae, of which approximately 900 species have been identified. Their natural habitats include savanna, grasslands such as the pampas, rainforest, deserts, scrubland, maountains and cloud forests.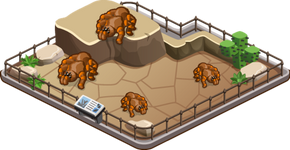 Ad blocker interference detected!
Wikia is a free-to-use site that makes money from advertising. We have a modified experience for viewers using ad blockers

Wikia is not accessible if you've made further modifications. Remove the custom ad blocker rule(s) and the page will load as expected.