Ad blocker interference detected!
Wikia is a free-to-use site that makes money from advertising. We have a modified experience for viewers using ad blockers

Wikia is not accessible if you've made further modifications. Remove the custom ad blocker rule(s) and the page will load as expected.
Animal Details
Level Unlocked
30
Type(s)

Cost of Animal
625.000
Cost to Complete Family
2.500.000
Area
Payout

4.170
8.340
13.761
19.182
417
834
1.251
1.668
Bonded Payout
25.128
Collects every
23 Hours
Reward for Completing Family
417
Breeding
Cost to Breed
625.000
Breeds in
1 Day, 4 hours
Instant Breed
0 / 0 / 32 / 32
Bonding
Cost to Bond
625.000
Bonds in
1 Day, 4 hours
Instant Bond
32
Animation
Static
Animation
Stands up, stretches out and smiles.

Collections

The Red Garter Snake is not part of any collections.

Crossbreeding

The Red Garter Snake is not a crossbred animal or a crossbreeding parent and must be purchased from the Tiny Zoo Store.
Additional Pictures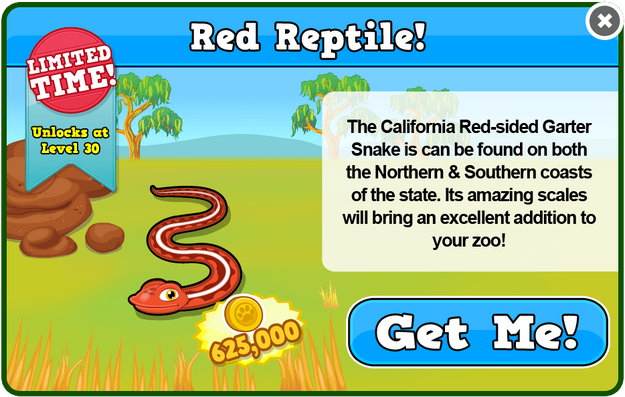 Further Information
The Red Garter Snake is part of the Color! themed collection.