Red Footed Booby
Comment

1
2,149pages on
this wiki
Red Footed Booby
Details
Lvl req.
15
Type
Galapagos Expedition
Area
Shop / Animal
Cost
99 / 99
Gain Veteran/
{{{GainVeteran}}}
Gain 09.2011/
12.400
XP
1.240
Every
16 hours
Breeding / Animal
Parent1
--
Parent2
--
Cost
99/99
in
10 hours
Instant
20/20
Reward for completing a Family
Family XP
1.240
Family Gain
1
Crossbreeding / Animal
Partner1
--
Result1
--
X-Cost1
--
X-in1
--
X-Instant1
--
———————————————————————————
Partner2
--
Result2
--
X-Cost2
--
X-in2
--
X-Instant2
--
Collections
Collections
--
The Red Footed Booby is a part of the Galapagos Expedition themed collection.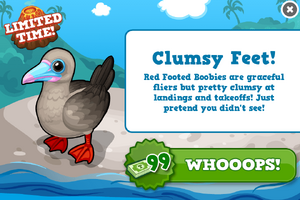 The Red-footed Booby (Sula sula) is a large seabird of the booby family, Sulidae. As suggested by the name, adults always have red feet, but the colour of the plumage varies. They are powerful and agile fliers, but they are clumsy in takeoffs and landings. They are found widely in the tropics, and breed colonially in coastal regions, especially islands.
The Red-footed Booby is the smallest of all boobies at about 70 centimetres (28 in) in length and with a wingspan of up to 1 metre (3.3 ft). It has red legs, and its bill and throat pouch are coloured pink and blue. This species has several morphs. In the white morph the plumage is mostly white (the head often tinged yellowish) and the flight feathers are black. The black-tailed white morph is similar, but with a black tail, and can easily be confused with the Nazca and Masked Boobies. The brown morph is overall brown. The white-tailed brown morph is similar, but has a white belly, rump, and tail. The white-headed and white-tailed brown morph has a mostly white body, tail and head, and brown wings and back. The morphs commonly breed together, but in most regions one or two morphs predominates; e.g. at the Galápagos Islands, most belong to the brown morph, though the white morph also occurs.
The sexes are similar, and juveniles are brownish with darker wings, and pale pinkish legs, while chicks are covered in dense white down.
Source: wikipedia.org