Red-footed Tortoise
Details
Lvl req.
11
Type
Animals unlocked through leveling up
Area
Shop / Animal
Cost
58.000
Gain /
5.800
XP
620
Every
22 hours
Breeding / Animal
Parent1
--
Parent2
--
Cost
58.000
in
2 days, 18 hours
Instant
25/25
Reward for completing a Family
Family XP
620
Family Gain
580
Crossbreeding / Animal
Partner1
Result1
X-Cost1
999.999
X-in1
1 day
X-Instant1
25/35/24/24
———————————————————————————
Partner2
Result2
X-Cost2
99.000
X-in2
1 day
X-Instant2
25/35/45/45
———————————————————————————
Partner3
Result3
X-Cost3
29
X-in3
2 days
X-Instant3
45/45
Collections
Collections
Five Reptiles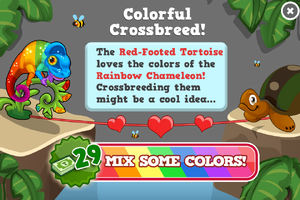 The Red-footed tortoise is a tortoise native to South America. It has also been introduced to many islands in the Caribbean. It draws its name from the red or orange scales visible on its limbs, as well as its head and tail.
Ad blocker interference detected!
Wikia is a free-to-use site that makes money from advertising. We have a modified experience for viewers using ad blockers

Wikia is not accessible if you've made further modifications. Remove the custom ad blocker rule(s) and the page will load as expected.